Ich hoffe Ihr seit mir nicht böse, aber ich habe meinen Beitrag aus dem Forum der BCUSA kopiert. Hatte keine Lust alles zu übersetzen, wollte es Euch aber nicht enthalten....
It was the 29th...
It felt like a very early spring...
My wife ordered me to get out there.....
I received a neat and very special gift...
And just everyting went right.....
I'd like you to come along and enjoy the day with me!
I started out a bit later than expected and I took a know track up the hills. Within minutes I came across a river of ice, running al the way down the hill.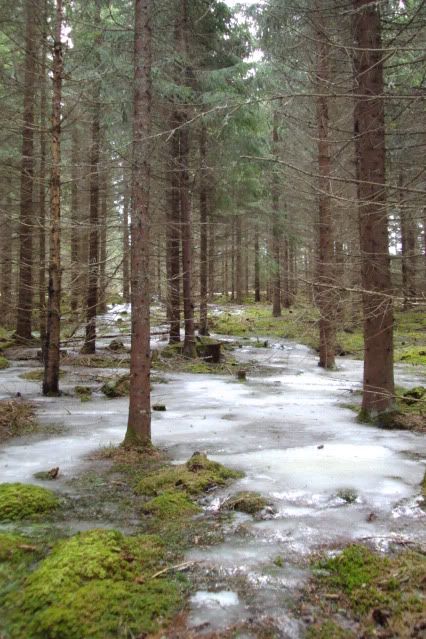 The decemberstorms, which raged here around christmas, sure left their mark on the forrest;
And on some areas they lay down like bowlingpins. Which is not really surprising, given the force they had to endure and when you see in what they are rooted.....
A squirrel lunchtable;
Water and frost will bring down even the toughest of things;
Spring was all around me. Birds were singing and I heard at least 10-15 different voices, sounds and songs. And I'm not even an ornithologist!! The subtle sweet scent of early spring filled the air and I could smell the sap rising. I also encountered the first mosquitos, but who cares.... A day like this is worth all the mosquitobites!
The shiney stuff isn't water, by the way.... It's ice.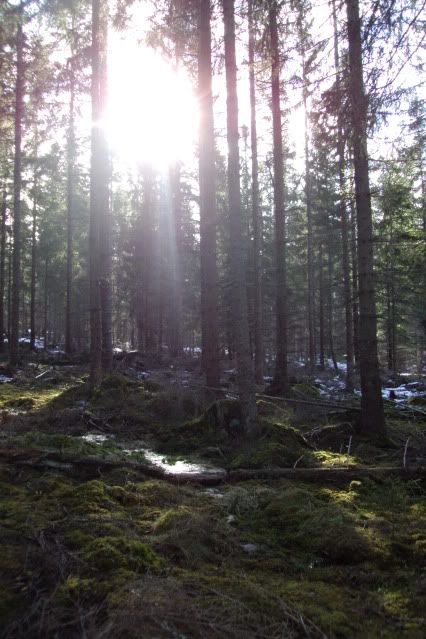 More evidence of nature's raw powers;
I had actually intended to just go out, sit around, soaking in the changing seazon and maybe play around with firemakingskills, but this..... This just screamed "shelter" at me!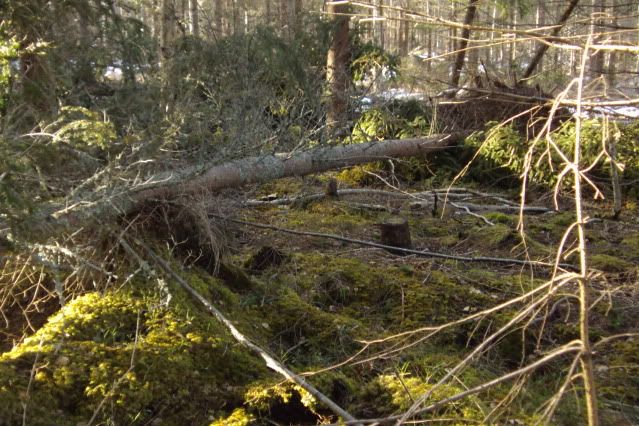 With all the downed trees around me, I just gave in.
First I cleared the trunk of branches, which I used to fill the very uneven ground underneath and around it. Than I cut a piece of timber in the right length to support the other side of the trunk. After that it lay there, steady as a rock. Than I added smaller, cut to sice trees for the roofing. These were everywhere and I just had to pick them up.
After that I added a thick layer of spruceboughs. I stopped when I had about 30cm thickness. This was enough to get the idea.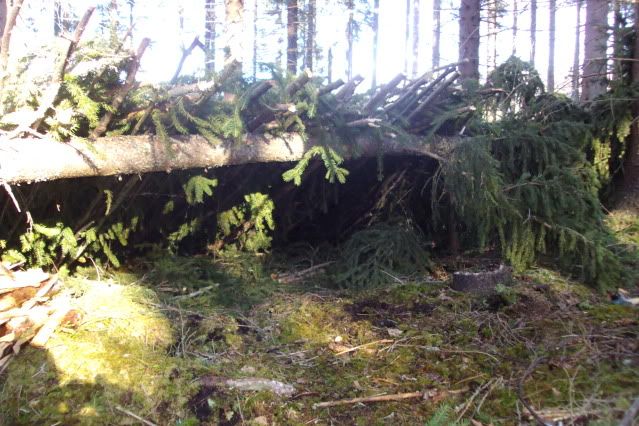 The way I split most of my firewood into smaller pieces. I only batton the very small pieces.
My homemade pouch for my BSA messkit. The original pouche's canvas is rotten and I tore it up the last time I took the kit out of it.
This one, too, is made out of shelterhalfscraps, to which I added a carryingstrap I had sitting in my "sparesbox" (I save all kinds of stuff for this purpose) and as a finishing touch added an old ex-Czecharmy leather strap.
My kitchen;
I stuck a long branch under a root, used a y-branch to keep it up and leaning against a tree and used a third branch to keep it al steady. Sticking these into the ground was not possible, since everything was still frozen solid, including the moss and lichen. Only the very top was defrosted.
Nope... not fog... smoke!
I used a dead standing birchtree, but this still smoked quite heavily. Getting a fire going in a thawing forrest takes longer and more effort to get and keep going.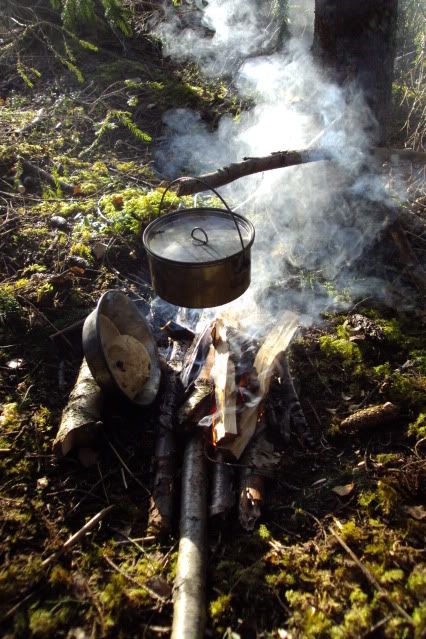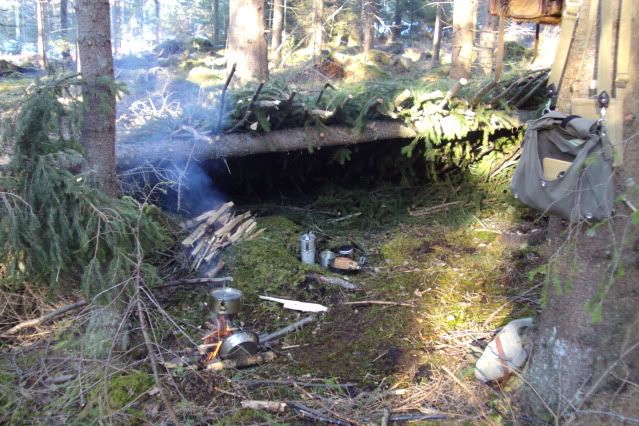 These looked totally uneffected by the snow, frost and ice.... Or are they completely newly grown??
The special gift I mentioned;
I got those pretty little pouch from my oldest daughter. It as made out of an all natural green felt with a small brown felt oakleaf. It is a natural fibre, dyed using natural pigments. The same goes for the wool cord. Even the thread is a nonsynthetic one, becaue that's in line with the school's filosophy. The bead is wood...... off course.
And my vintage WW2 German compass fits in snugly!!
Yet again my camp, but this time with my wardrobe. If I had brought my blankettroll I would have stayed here. It felt very "homey", but funnily enough I had the constant feeling of not being alone, there. I had the constant feeling of being watched, of being observed and I regularly thought I saw movement from the corners of my eyes. Know the feeling??
The obligatory pic of me.... The small dark square on my chest is the camera, suspended from a treebranch and casting a shadow;
Dinner is done!
Freshly backed bread with nuts and raisins, bacon and eggs and tea this time. I like a nice dark blackteabrew, too.
I did fool around with some flint and such, but was only able to get small sparks, using the flint and the "blades" of the coppercoloured stone. The markasite wouldn't spark.
It was my very first time, using these and appearantly I have a lot to learn. I did get some very thin, even translucant, pieces of flint, though. Sharp as a razorblade!!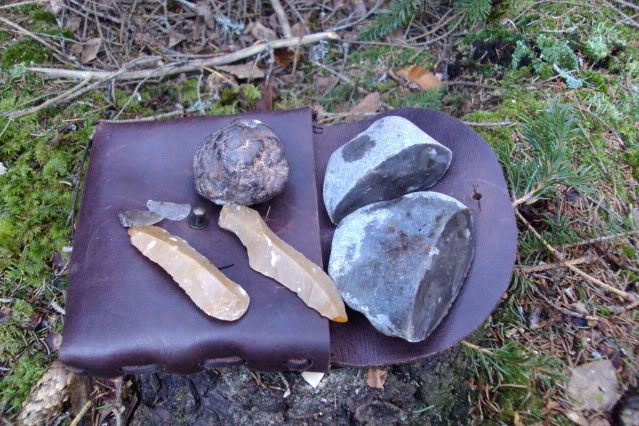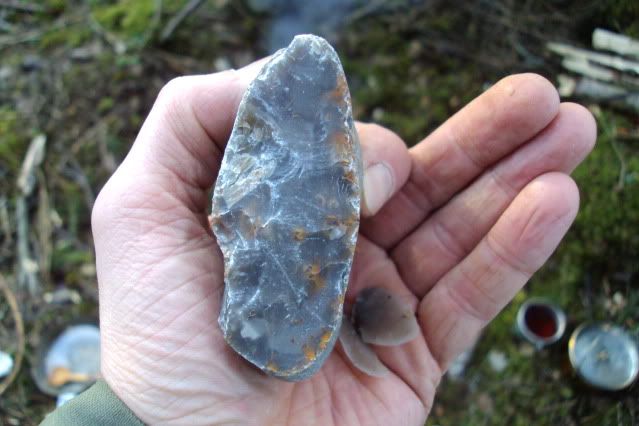 By than the sun was already setting and I had to break camp. On my way home I had to cross an open area again. Don't be fooled by the melting snow. You can easily sink away for more than 50-60cm.... which I did.... getting thoroughly.... refreshed, when landing face down.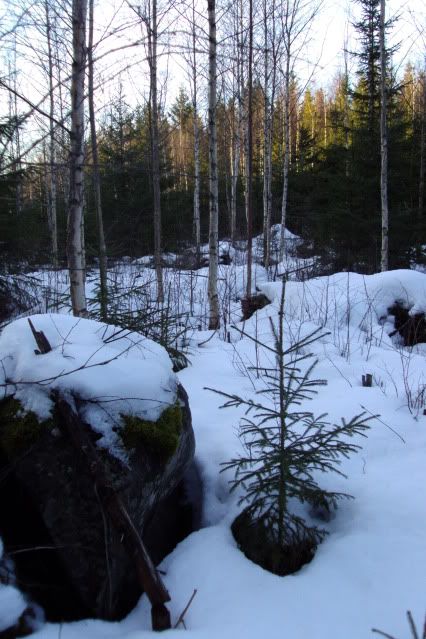 By the time I reached the trail agian, the sun was casting it's rays from just above the horizon, casting the landscape in a golden glow;
I wonder.... who might be living here??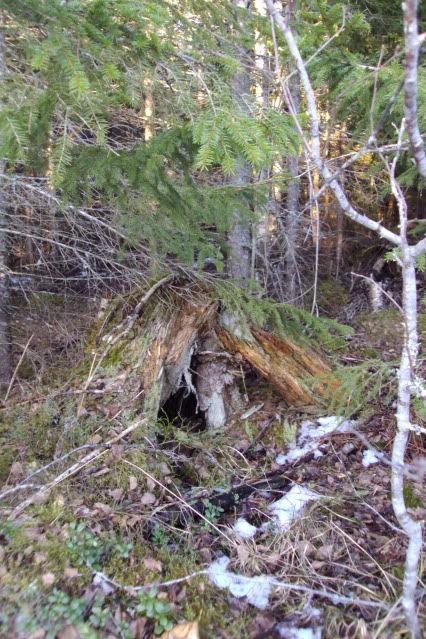 This little birchleave has melted it's way into the snow and ice. It sank about 3cm;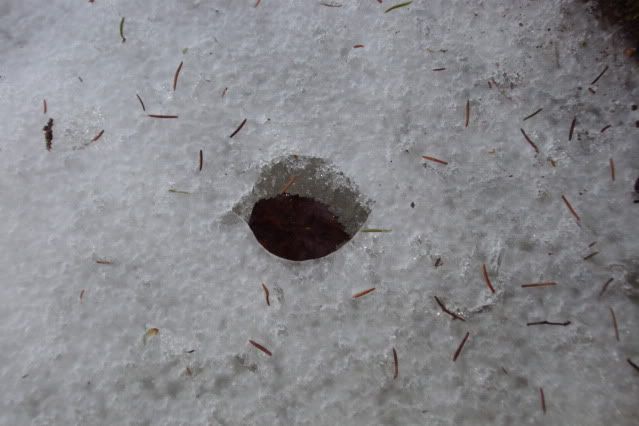 The river of ice, again....
Catching the last rays of the sun....